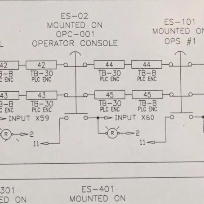 Panel Fabrication
Amtec maintains and operates a UL508A panel fabrication shop. We stock most components in-house and can fabricate smaller panels from our stock. Please give us an opportunity to bid on your next panels. We also offer on-site troubleshooting and shutdown field support. Call us to discuss.
Programming
All Families Of AB From Logix To SLC's supported
PanelViewPlus And FactoryTalkSE
Control Technology 2500 Series And Siemens 505
Siemens S7 Family
Database Integration
Inductive Automation Ignition
Intellution Wonderware
Control Engineering
A full service control engineering company, Amtec Control Integration Company, Inc. has a wide range of experience in most sectors of manufacturing and production. Please give a call to discuss your project need. We welcome the opportunity to work with you in the initial phases of a project.